Stats Archive allows fans, media and staff to query your Basketball, Football or Ice Hockey history, all from a standard web browser. Complete game, season, and individual records are available at the touch of a button.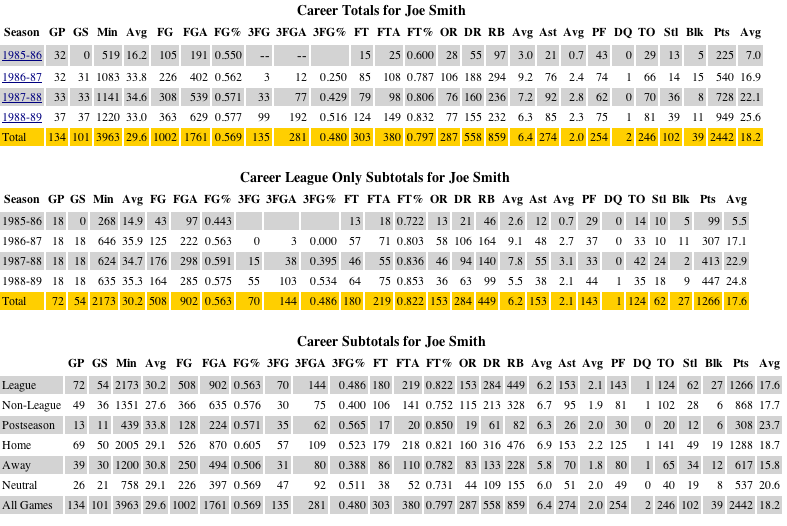 In the example to the right (click here to enlarge), the user has requested the career totals for 'Joe Smith'. As you can see, his totals are broken down by season, league and numerous other categories. Additionally, clicking on a 'Season' will display a game by game detail.
But rather than trying to explain the myriad of features, to see a live site, just click here for Football or here for Basketball and browse around all you like.
Highlights Include:
Games are imported in seconds from the commonly used 'BPK' or XML files created by your in-game scoring system.... either VS Basketball GT or others.
Web pages can easily be made to look and feel like the rest of your site.
Data tables can be integrated into your existing web pages including player 'bio' pages.
Optionally, works in conjunction with VS Basketball PG giving you one single source of data for all your print and web based needs.
Other sports will be added in the future.
But how do you import games played before you used an in-game scoring system?
VS can provide data input and consulting services for such games. If you have the data in any electronic format, we can probably use that, and if not the data can be entered manually from printed box scores. Please contact us to discuss the best options for your situation.